Whiskey is such a particular alcohol category with a cult following or high dislike.
The intense love or hate relationship occurs because of the strong flavors and strict drinking standards and enjoying the liquor. Scotch whiskeys aren't designed or distilled to be made for a mass chugging competition of frat house parties. This regal drink indulges people who have the knowledge and love for finer things.
Scotch is generally a barley whiskey that is exclusively distilled, matured, and bottled in Scotland. There are many varieties that a distiller can make based on the note preference.
The two main types of scotch whiskeys are Single malt scotch and single grain scotch. The most crucial difference between these two is that a single malt must be made out of a single distillery and only barley as its ingredient.
Single grain scotch is distilled in the same distillery, but the raw ingredients include barley, corn, wheat. Apart from the main categories, many distilleries sell different blends, starting from blended malt to blended grain scotch.
Scotch has is one of the most tightly regulated spirits in the entire world; this is another reason for scotches being so expensive.
When you purchase, you are always paying for the quality and consistency of the bottle. The government even has specific rules for a whiskey to be called Scotch whiskey:
The scotch must be made from malted barley as its main ingredient.
Each cask should be aged for a minimum of 3 years in heavy-duty oak barrels.
The distiller should only produce, store, and bottle the whisky in Scotland. If the whiskey is made in any other country, it cannot be called a scotch whiskey legally.
---
Reviews of The 5 Best Single Malt Scotch Whiskey
---
Winner: Auchentoshan 12-year-old Scotch Whiskey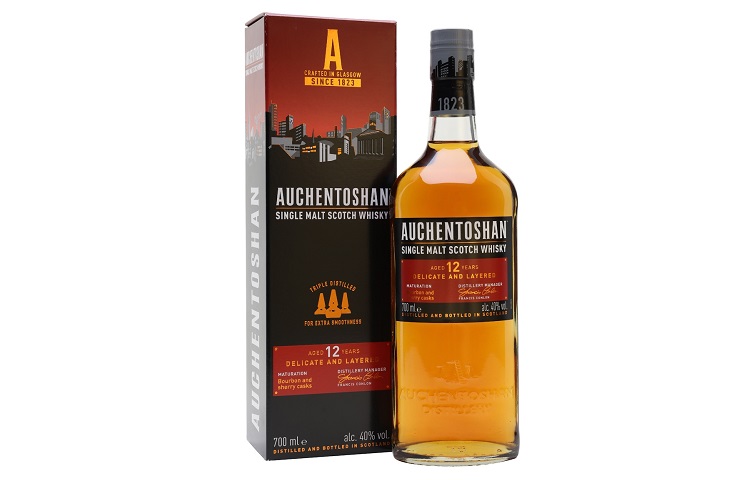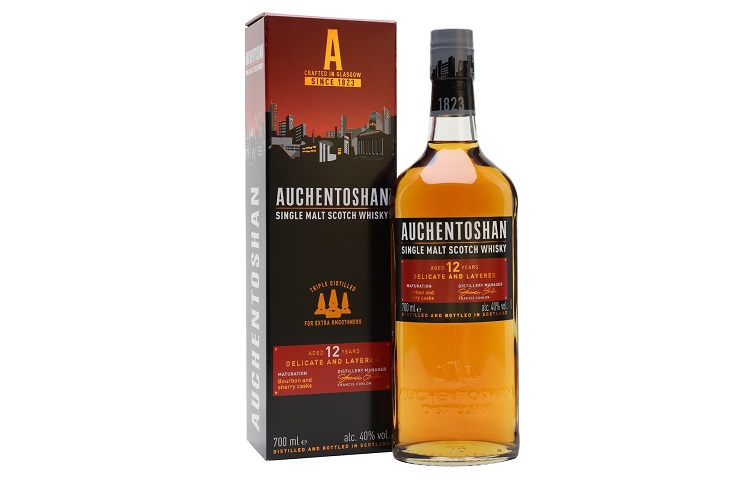 Our first winner for the best single malt scotch whiskey is a very regal and eminent Auchentoshan 12 year old.
This current stock is a revamped range that discontinued their ten-year-old range to make a better and more potent blend of scotch. Let us read the pros and cons to understand the taste, flavor, and texture of this 12-year-old scotch dram.
Type: Single Malt Scotch Whiskey
Size: 700 ml
Alcohol percentage: 40% ABV
Region: Lowland
Bottler: Distillery Bottling
Flavour Breakdown (The Good Bits)
You get to experience the renowned and classic Auchentoshan almond and vanilla notes in abundance because of the use of bourbon and sherry casks.
This expression is truly a flavor celebration for all of your senses. When nosed, the elementary vanilla gives way to crème brûlée small with occasional hints of sharp citrus and nutty undertones. You will indeed have a grand old time nosing these exceptionally developed flavors.
The palate is slightly different from this scotch's nose as it opens out to more citrusy notes accompanied by tangerines. You can taste the refreshing quality of this aged scotch within a sip.
On the other hand, the finish lingers with extra nuttiness but has sharp dry, and gingery properties, which only gets to you after a few sips.
This scotch doesn't have a smokiness or peat flavor to it, so you can sip this relatively smoother whiskey without having to wash down the heavy peat flavor with water.
Pros
This spirit is aged for 12 years for a more intense flavor profile.
Auchentoshan is triple distilled to bring out the most smooth flavor as you sip and admire the intense and matured taste.
Cons
The liquor has added artificial coloring, which is the first big con in this otherwise good product. While some drinkers feel the added color doesn't affect the final taste of the scotch, few connoisseurs feel the taste heavily alters after the artificial color comes in contact with the barrel and liquid.
Final Thoughts
Auchentoshan 12 years old, uses a triple distillation to enhance the flavor, which is exceptionally well suited for beginners and novice whiskey enthusiasts.
You don't get to see many single malts from the lowlands and a triple distilled feature in a single malt version. Most malts are only single distilled, so this is truly a unique dram to add to your whiskey collection.
Lowlands are known for their delicate malty and citrusy character, so if you wish to indulge with a thin palate and a drink that shouts less complexity, then this is undoubtedly your drink.
Runner-up: Bowmore No.1 Scotch Whiskey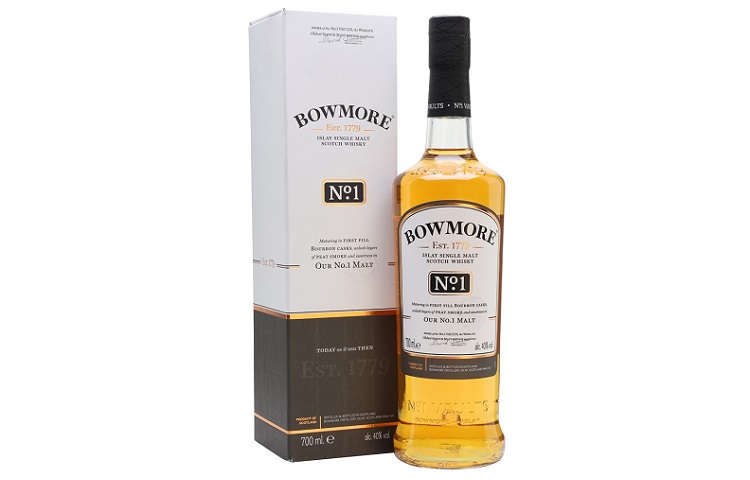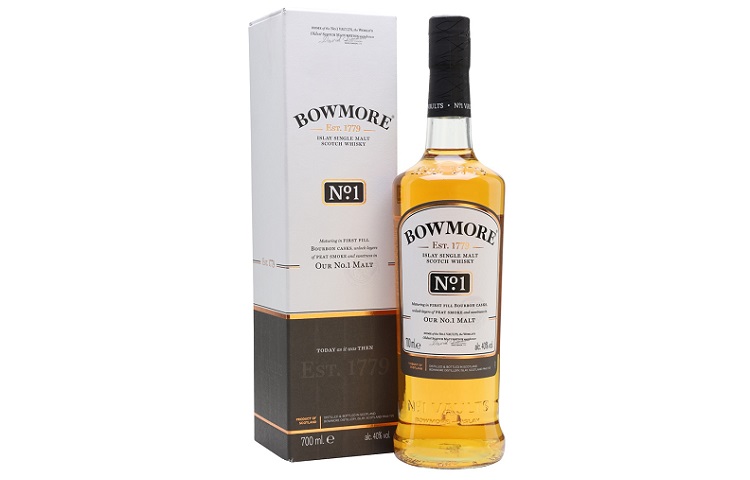 Our runner up the Bowmore No.1 single malt scotch whiskey, comes from the Islay region. Let us break down the complex flavors and other pros and cons to help you decide if buying this is a good option or not.
Type: Single Malt Scotch Whiskey
Size: 70 ml
Alcohol percentage: 40% ABV
Region: Islay
Bottler: Distillery Bottling
Flavour Breakdown (The Good Bits)
This expression has a 50-50 smokey and sweet taste that lingers on your tongue. The nose is fresh on vanilla, apples, and lots of subtle sea-salty aroma.
The taste needs to have a little more body, but apart from that, the smoke works terrific as a background. The liquor on the palate is sweet and adequately fruity with a strong peat flavor.
The finish doesn't last very long, but the ultra smokiness stays with you for a long time, and sometimes, a slight tingle of citrus surprises your taste buds once in a while.
Pros
The distillery uses first-fill bourbon casts for a more creamy and dense flavor.
This dram has a 40% alcohol level, which seems to work well with this scotch's less-aged factor.
Islay is famous for the intense peaty flavors that are highly embedded into its whiskeys, and Bowmore No.1 walks on the same peaty path to give a coastal, deep smokey flavor.
Cons
This dram isn't aged a lot compared to the other whiskies on this list. Less aged scotch doesn't mean it has a terrible taste, but you can indeed feel some of the flavors losing their original potential.
The distiller adds artificial color to the spirit, making the consumer think that if the bottler is willing to lie about the whiskey's color, what else is he willing to lie about.
Final Thoughts
It is considered that peat is a robust flavor and isn't the first choice of novice enthusiasts, but if you wish to taste a clean peat flavor, then this is a great bottle to start with.
We highly recommend drinking this neat to savor all the notes with each raw sip. Sometimes straight up can mask the underlying vanilla taste, so consider drinking this scotch neat.
If you are searching highs and lows for first fill, bourbon casked scotch, this whiskey fits the bill perfectly, making this one the best tasting single malt scotch whiskey.
Alternative: John Crabbie 12-Year-Old Single Malt Whiskey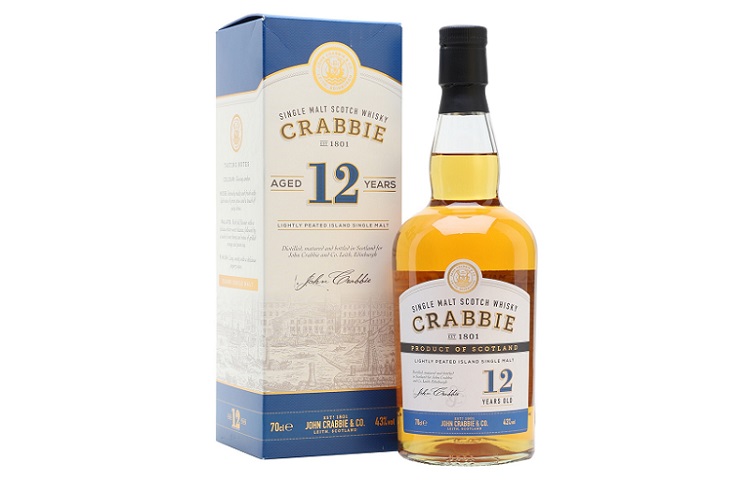 John Crabbie 12-Year-Old Single Malt bags our first alternative position because of their excellent grassy malty finish. Let us look at its cons and pros to understand this Island scotch even better.
Type: Scotch Whisky
Size: 70 ml
Alcohol percentage: 43% ABV
Region: Highland; Subregion- Island
Bottler: John Crabbie
Flavor Breakdown (The Good Bits)
This single malt heavily relied on citrus notes with light and subtle hints of green grass on the nose.
The palate is exceptionally buttery sweet with green tea and grassy orange notes occurring after sipping.
The finish of this single malt scotch whisky is very long. The finish lingers of a spicy, peppery aftertaste; kudos to the distillery for making it have a great and long finish.
Pros
John Crabbie Single Malt Whisky is aged for 12 years to develop the most subtle yet prominent grassy, citrusy flavors.
The whiskey does not have any artificial colors added to it, ensuring a more natural whiskey with pure flavors emulsified over 12 years.
This whisky works excellent as good alcohol for mixers.
It has a decent 43% alcohol level that quickly hits you right after one glass.
Cons
Few avid drinkers find it hard to believe that the whisky is 12 years old. This scotch tastes a little unripe and young compared to the rest of the scotches available with the same age.
Final Thoughts
You might mistake it for a heavy tasting liquor, but this is an excellent old aged light peated single malt with rounded and sweet notes in the background.
The appropriately labeled "light pleated" stands true with John Crabbie. People who do not like enjoy the sharp and sometimes overpowering peaty note can gracefully swig this single malt and enjoy this good single malt scotch whiskey.
Alternative: Loch Lomond Original Scotch Whiskey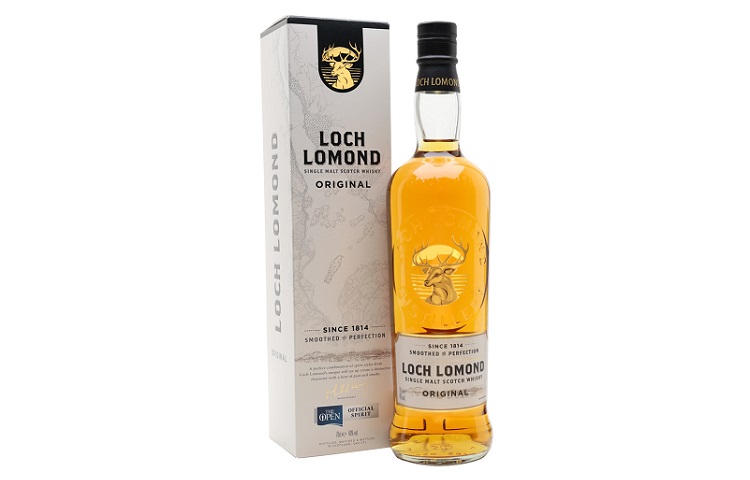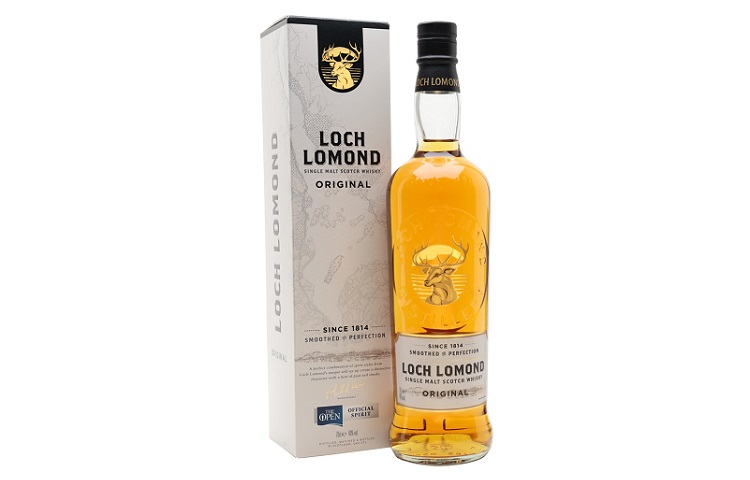 Our second alternative is the Loch Lomond Original, proudly distilled and packaged in the highland region of Scotland. Let us look at its pros to understand this dram even better.
Type: Single Malt Scotch Whisky
Size: 70 ml
Alcohol percentage: 40% ABV
Region: Highland
Bottler: Distillery Bottling
Flavour Breakdown (The Good Bits)
This absolute beauty starts with a warm leathery smell built up to a more woody heathery character on the nose.
The taste has distinct peat and smoke balance; you will indeed taste the creamy note as the whiskey gets swirled around your mouth.
The finish has a lovely citrus note which later fades away into a sweeter note of nutty bean and almond high.
Pros
The distillery doesn't add any extra artificial coloring to enhance the hue of this whiskey. You get a naturally balanced honey-glazed colored liquor from the mountains straight to your glass.
Loch Lomond Original is a full-bodied whiskey that gives an excellent rich flavor after pouring.
Cons
This dram is exceptionally mild, so people searching for a heavily flavored whiskey will be highly disappointed after tasting it.
Their no age statement doesn't work well in their favor as people feel the slight variations and missing fruity notes is because it's not aged well enough.
Final Thoughts
This authentic highlander expression has a lot of character to it. Highland whisky enthusiasts consider this the best single malt scotch whiskey globally.
You cannot go wrong with this whiskey with its rich honey and nutty notes, but often people who love the spay side find the heather flavor a little off-putting. So if you are an avid whiskey lover from that side, we recommend that you only buy if you can personally tolerate and enjoy highland's flavors.
The flavor of this liquor is buildable and can be easily used with other drinks and mocktails.
We highly recommend Loch Lomond Original as the welcoming taste of this whiskey will surely grow on you after a glass or two.
Alternative: Glen Scotia 11-Year-Old Scotch Whiskey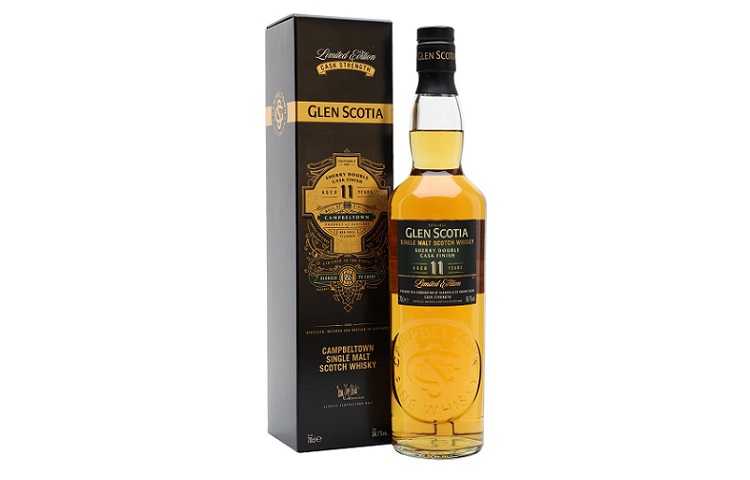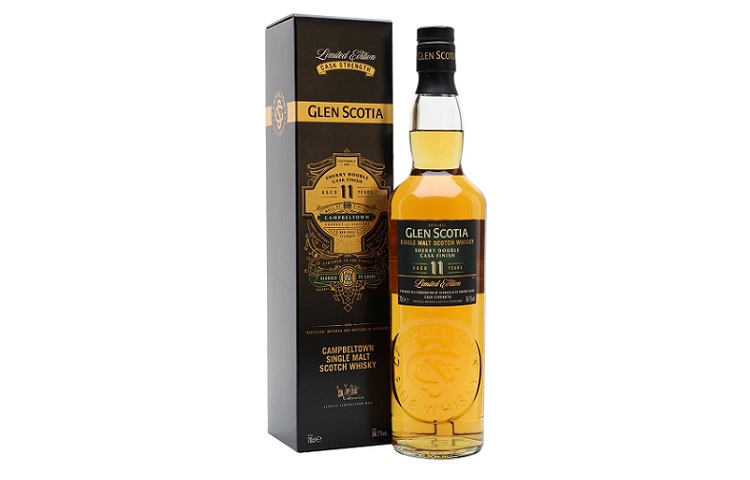 Our last alternative from the best single malt scotch whiskey brands is the 11 Year Old Glen Scotia. This Campbeltown specialty has many stunning qualities, let us read the pros, cons, and our final thoughts to help you add this whiskey to your cart.
Type: Single Malt Scotch Whiskey
Size: 70 ml
Alcohol percentage: 54.1% ABV
Region: Campbeltown
Bottler: Distillery Bottling
Flavour Breakdown (The Good Bits)
The nose strongly emulated ripe plums, toffee, and baking spices to a heavy extent.
This mostly full-body whiskey has subtle palate hidden undertones of vanilla, nutmeg, raising, and surprise- more spices!
The finish is dry, but the spices still linger for a lot of time without overpowering.
Pros
Glen Scotia is an 11-year-old single malt aged in a sherry double cask.
The alcohol has a whopping 54% alcohol that puts this dram on a potent side.
This Campbeltown bottled whiskey does not have any artificial food or even natural coloring to optimize the color of the scotch.
The zero peat and smokey flavor instantly make this one a favorite among the budding and non-peat flavored scotch drinkers.
Cons
The flow is highly overtly spice dominant, so regular drinkers who aren't significant likers of baking spices will not fully enjoy this whiskey.
The double cask masks and steals a lot of potential from the original whiskey.
Final Thoughts
If you love spicy scotch with lots of over and undertones of baking spices, this is just the right bottle to try.
The high ABV level gives it a nice bite, making it the best single malt scotch whiskey under $100.
Single Malt Scotch Whiskey Frequently Asked Questions (FAQ)
How do Beginners drink scotch?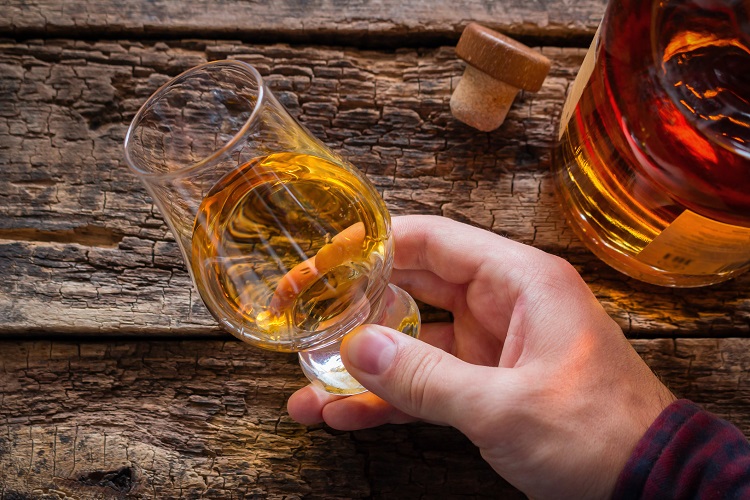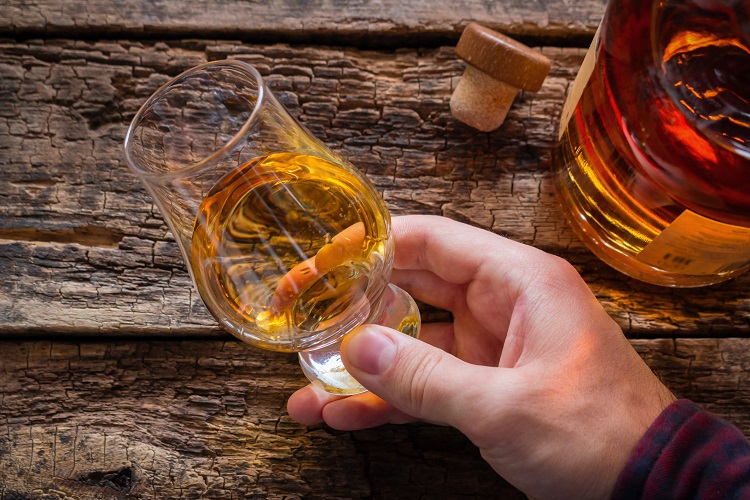 If you wish and want to go all out and start your love affair of scotch with a 25-year-old Lagavulin straight up, then chances are you will never touch whiskey in your life. Choosing a perfect dram is very important as it can make or break your relationship with scotch forever.
You should avoid buying whichever whiskey feels right to you because whiskey is expensive, and it is not a fun summer cooler or light-hearted beer. It was never meant for that.
When selecting your first scotch glass, remember to stick to gentler and smoother spirits. A softer and smoother liquor doesn't have peat. Peat makes your throat burn and gives a complex deep flavor devoid of sweetness.
Whiskeys without peat will provide you with minor burns to concentrate on that dram's flavors and aroma profile, and slowly it will start to excite you. Water plays a crucial role in whiskey; you can add few drops of water to invite the more subtle flavors and smells.
If you feel drinking neat or straight up will make you sick, then a cocktail is always a good idea. Incorporating whiskey into fun standard or customizable drinks will tighten your bond with the scotch.
You can try soda scotch or a classic rusty nail for a delightful drink. Be creative and think about where you can add your scotch; one great example is to add your scotch in Manhattan instead of rye liquor.
What is an excellent Scotch to drink straight?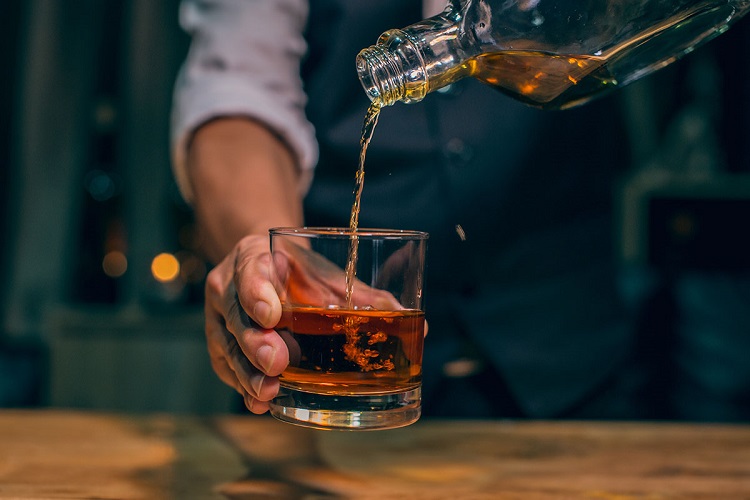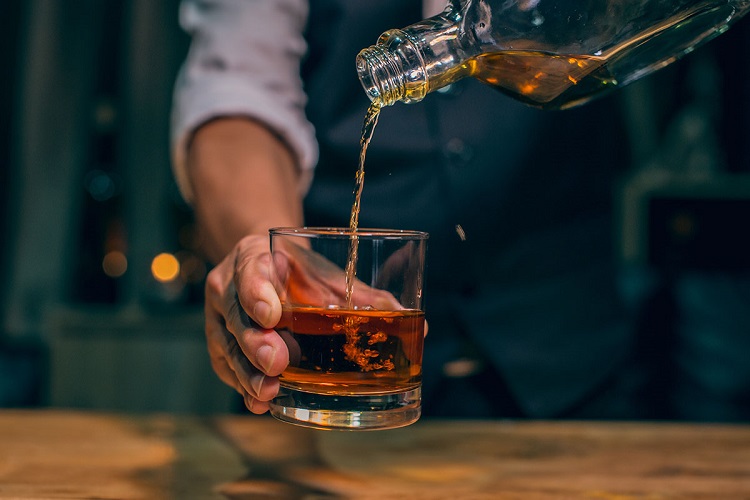 To drink a scotch straight, decide where you would like to dive into the single malt arena or a double malt one. You can usually start with Highlands and young Speysides and then work your way upwards to the more potent island whiskeys.
High-end whiskeys for drinking straight:
The GlenDronach Allardice – If you enjoy fruity notes, then The GlenDronach Allardice can be your perfect drink to sip straight. This 18-year aged scotch has notes of brown sugar, pineapple, and undertones of hazelnut, honey, and blueberry. The sherry casks give it a smooth flavor.
Balvenie DoubleWood – Balvenie DoubleWood is the world's smoothest scotch whiskey to drink. It ages 12 years to give a spicy yet frosty flavor of vanilla, cinnamon, and nutmeg. You will surely love this smooth drink after just once dram.
Affordable whiskeys for drinking straight:
Johnnie Walker Red Label Blended Scotch Whiskey – This excellent scotch is packed with interesting flavors that aren't overpowering that you stop drinking. It has hints of frosted mini wheat, burnt toffee, and crème brûlée. You will taste smoke and ash, which is very typical of scotches.
Is it OK to drink scotch on the rocks?
Let us clear up your mind by saying that there is no hard and fast rule for anything. People do not suggest drinking your scotch straight, but if you love it with ice, feel free to drink it. We are sure drinking with ice will open new mind flavor sets from the whisky.
Drinking in rocks is highly acceptable if it is blended whiskey. If you wish to drink your scotch extremely cold with ice, we recommend using large ice cubes. Giant ice cubes melt very slowly, giving you time to enjoy your scotch.
Make sure to use distilled or pure spring water for making ice; this will keep your ice a neutral flavor and away from contaminants.
Don't want to dilute your drink but wish to have a chilled dram? You should buy whiskey stones. These stones are usually made of steel or soapstone in various sizes and shapes.
All you need to do is, put them in the freezer and put them in the drinks while drinking. Wash them with water and put them again in the freezer for the next chilling cycle.
Why is scotch so good?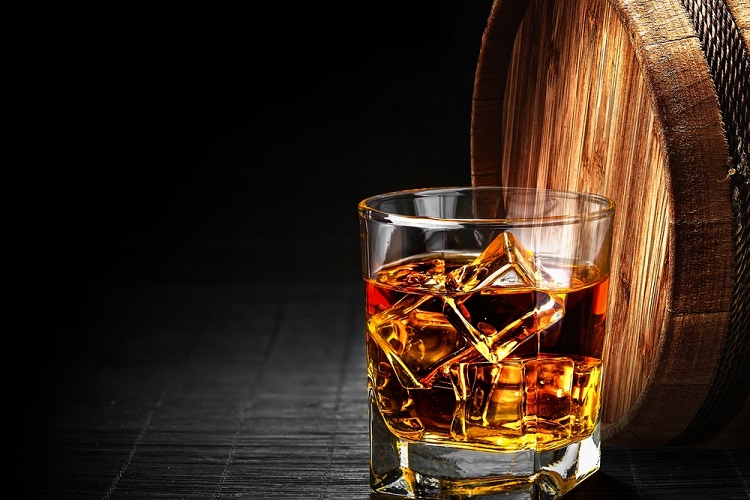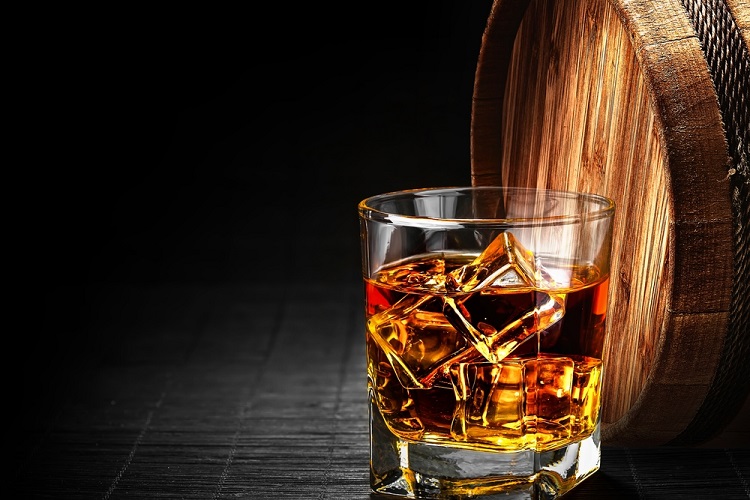 We have several reasons advocating why whiskey is good, but the number one is its taste.
Whiskey is delicious and soothing to drink. Scotch whiskey has different complex layers that fight for their limelight spot, which creates a symphony of flavors and aromas – a treat for your nose and mouth!
Protects you from stroke – Drinking whiskey surely helps the buildup of bad cholesterol in your body, which automatically lowers your risk of stroke. A dedicated research team from the State University of New York at Potsdam discovered that people who drink a regular 1-2 servings of scotch whiskey have half the chances of having a stroke in their old age.
Very easy on your waistline – Scotch contains zero zilch carbohydrates, sugars, fats, and salt making it one of the lowest caloric alcohol beverages. Thus drinking will indeed not cause a hindrance in your endeavor of losing weight.
Helps in dementia – Drinking scotch reduces your odds of dementia than those who do not consume whiskey at all. Apart from this, drinking in moderation undoubtedly improves your overall cognitive functions.
Conclusion
We hope this best single malt scotch whiskey article helped you open the doors of the new world of scotch whiskey.
Try to start with a mild and smooth double or triple distilled blend while introducing yourself to scotch. As your tastebuds start accepting and appreciating the complex flavors of whiskey, you can move upwards and try all whiskies from all regions.
Soon you will have a cabinet full of the most exotic scotch whiskies that you would be proud of. Scotch is always paired with a thick rolled Cuban cigar but if you love food more than cigars, try to pair your flavorful scotch whisky with more bold flavored items like blue or aged cheddar, smoked salmon, or haggis.
Once you start loving whiskey and the environment it creates, you will always try to add something to heighten your experience, thus indulging in good food, cigars, and close friends to share with.