Born out of pure love for smooth, tasteful bourbon, the Maker's Mark Kentucky Straight Bourbon Whisky is the most iconic bourbon served in America.
It is almost synonymous with bourbon. With its trademark red wax-sealed bottles, Maker's Mark cannot go unnoticed on your shelf. Apart from its extravagant packaging, the mild, sweet taste sets it this whisky apart from the rest.
This flavor is created by red winter wheat in the mash bill instead of the more commonly used rye. Most distilleries use rye but not Maker's Mark.
Quick Overview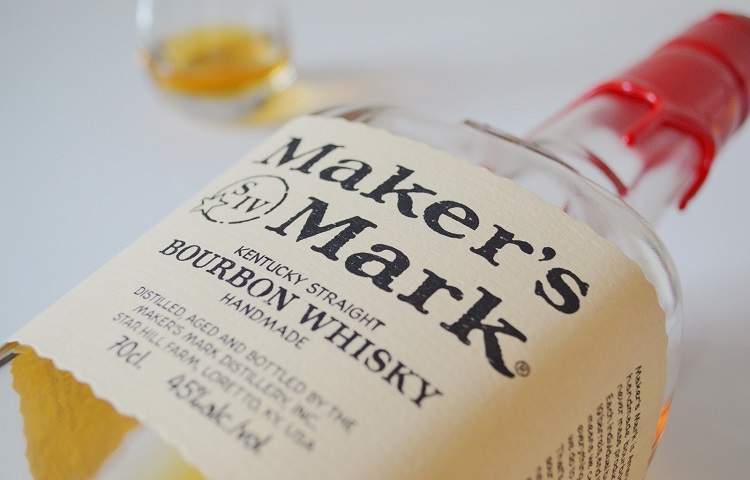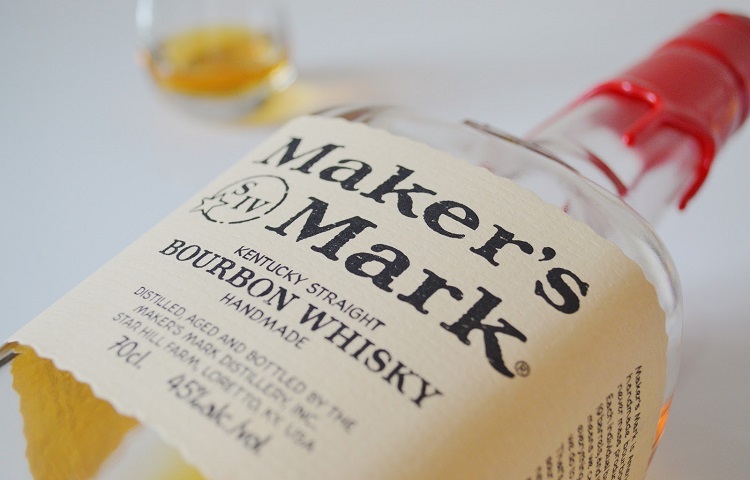 Bill Samuels Sr. purchased the Burke's Distillery in 1954. Little did he know he was about to create one of the finest whiskies the world has tasted.
Since then, his son and now his grandson has been running the distillery, precisely the same way Bill did. Apart from a few renovations due to wear and tear, the distillery to date uses the classic distillation methods.
They also have an entire panel that decided when the whiskey is mature. Rather than time, they use age to define its taste, flavor, and consistency.
Each 525-pound barrel is hand turned. Once it is pre-approved by a panel of tasters, it is moved to an area with a lower temperature. This process prevents it from maturing too quickly.
A 150-year-old strain yeast is present in every Maker's Mark bottle of bourbon whiskey. This strain has been passed down from generation to generation. The yeast is fermented in tanks older than Maker's Mark itself. These tanks are made from 100-year-old cypress planks, which help protect the flavor of the whiskey.
It takes six to seven years to prepare a batch of Maker's Mark's finest bourbon whiskey. Up until 2010, Maker's Mark only produced one product.
It is only now that the company has launched other premium bottles. Since Mr. Samuels hailed from an Irish-Scottish background, he decided to use the Irish spelling of 'Whisky' rather than the traditional spelling of 'Whiskey' used by Americans.
Bottle Design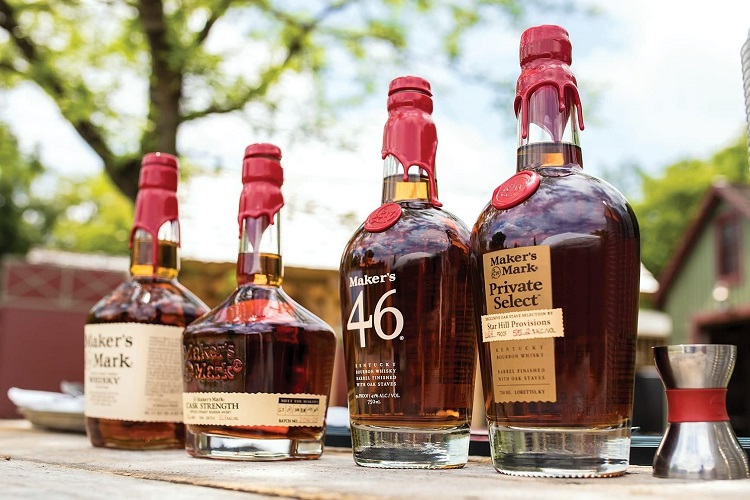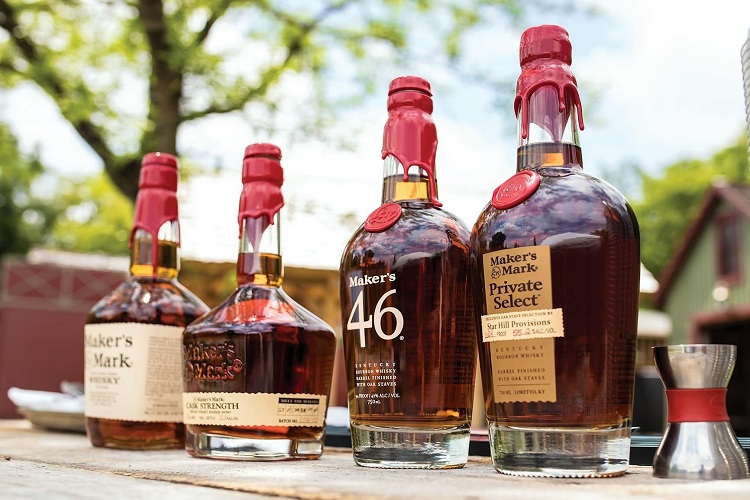 The Maker's Mark handcrafted bourbon comes in square-shaped bottles. This idea was initiated by Bill Samuels' wife, Marjie.
She was the first woman to make it into the Bourbon Hall of fame. Her collection of cognac bottles inspired the shape of the bottles. What makes the design unmissable is the red wax seal. Each bottle of Maker's Mark bourbon is hand-dipped in red wax.
This wax seal is a vital part of the bottle's identity. Even though some manufacturers use this seal, it is usually linked to Maker's Mark. Some bottles are a bit over dipped, but hey, no one's complaining.
Americans and people worldwide identify a Maker's Mark bottle by its seal. It is a collector's delight to own one. Since every bottle is hand-dipped, each of them has a unique design. No two bottles have the same seal wax design.
From the collector's point of view, that is pure gold! For decades these sealed bottles have been the pride of first-time bourbon drinkers! College graduates take utmost pleasure in buying their first Maker's Mark.
Flavor Review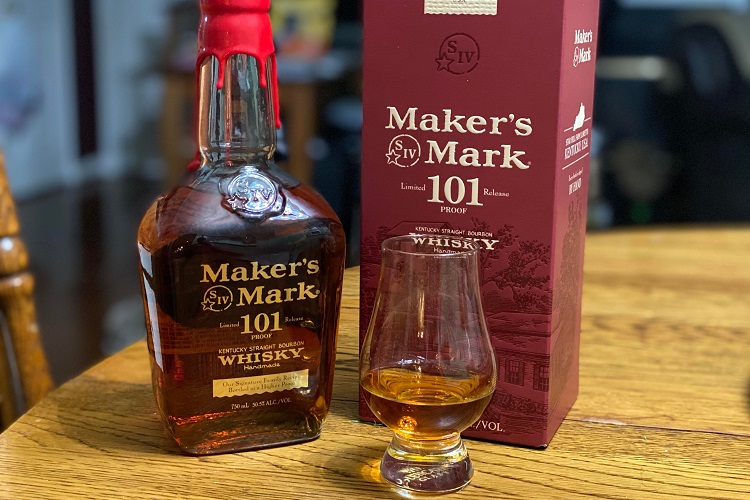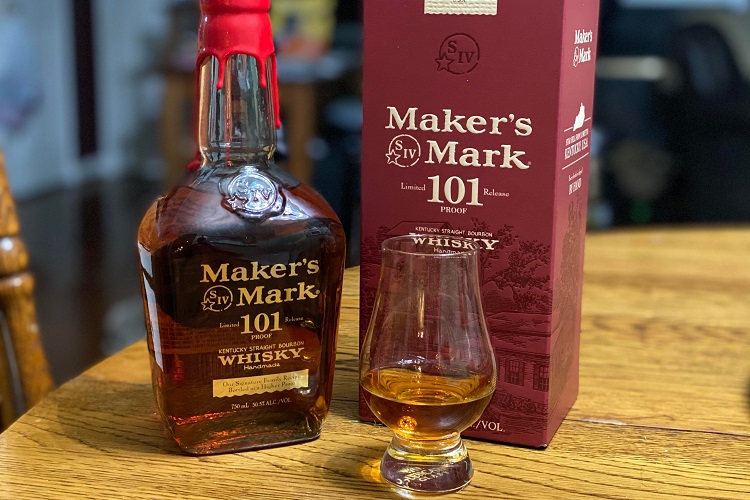 If you are someone who likes your whiskey to be smooth and sweet, Maker's Mark bottle is for you.
This bourbon is distilled from corn, but instead of using the usual rye, Maker's Mark uses red winter wheat, giving it a slightly sweeter tinge. It has a classic flavor that any whiskey lover can easily recognize. Upon inhaling, a sweet, fruity scent tickles your nose, followed by the smell of hazelnut, spiced honey, and mixed peels.
The alluring aroma of vanilla and toasty oak add the final touches to the scent. The vanilla flavor is created by burning the barrels for 40 seconds. This customary number-three char caramelizes the natural wood sugars and gives Maker's Mark a vanilla tinge.
Each batch consists of approximately 19 barrels. These barrels are stored for at least three summers. Such high maintenance and consistent maturing help create the world's most outstanding bourbon! Then comes the taste.
A mouthful of this bourbon tastes like heaven. The feel is neither too thin nor too heavy, and it is just perfect. The bourbon tickles your palate with the flavor of cinnamon and toasted nuts. You can also taste barley malt with butterscotch and toffee.
It goes down smoothly, unlike other bourbons, which might burn when sipped neat. The finishing leaves you with an aftertaste of vanilla and lemon tea. Not to mention the more spicey flavors, which balance out the vanilla! When mixed with water, it brings out a more malty flavor.
The aftertaste with water is more herbal. The sweet taste is created by hand-rotating aging barrels mixed with a high amount of malted barley. The wheated mashbill is also responsible for bringing out the sweet flavor.
You will find the color of this bourbon to be medium to dark copper. Overall the solid spicy flavors mixed with the sweet, fruity ones make it an absolute delight to have at home. The multiple layering of flavors gives Maker's Mark its signature taste!
How To Use It Best?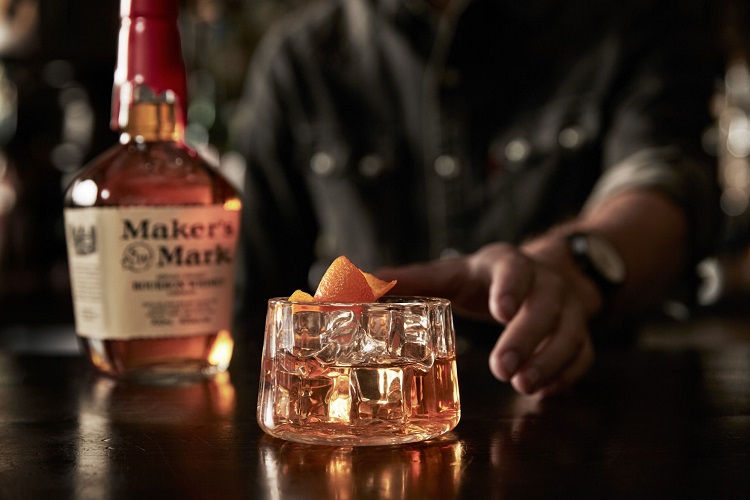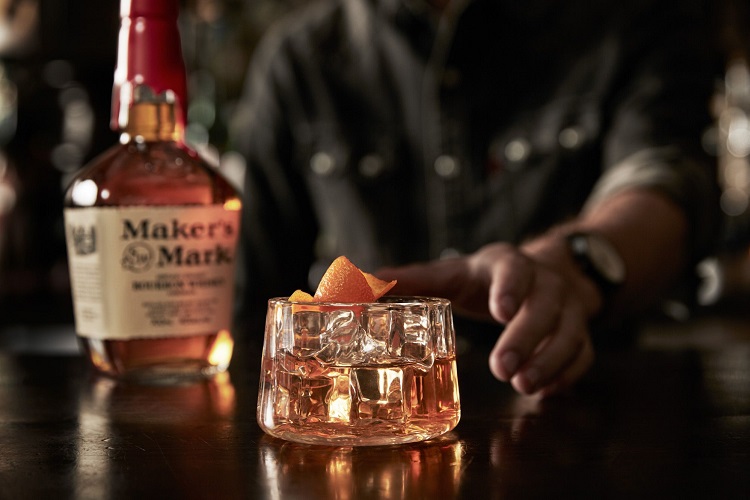 Thanks to its robust, spicey, and sweet flavoring, Maker's Mark Bourbon Whiskey can be paired with various foods. When it comes to desserts, baklava, custard, fruit pies, puddings, pancakes, and banana bread will bring out the bourbon flavor.
As for the main course, chicken, cornbread, and honey glazed ham will taste the best. It is best to avoid intense chocolate-flavored desserts and red meat when sipping on the Maker's Make Bourbon.
Of course, these are mere suggestions. You might want to try out different foods and pick what best suits your palate. Tasting great with cuisine is just one of its outstanding qualities. Apart from food, Maker's Mark also pairs well with other ingredients that create delicious cocktails!
We all know the classic 'Whiskey Sour.' With a sprinkle of sugar, some lemon juice, egg whites, and water, you can make delightful whiskey sour. If you or any of your friends are vegan, you can skip the egg whites and instead add some sours with your whiskey. You can add some cherries, pieces of lemon, or orange peels to garnish it.
The Mile High Manhattan is another cocktail that can be made by pairing Maker's Mark Bourbon Whiskey with orange, vanilla, and anise liqueur.
This classic whiskey can also be had neat, on the rocks, or with a bit of water. I prefer neat, as it brings out the true essence of the bourbon. You can also have it with some fresh peaches and a bit of mint. It creates the perfect White Peach Julep.
For a more light-hearted day drink, you can shake up a Packer's Punch. All you need is lemonade, soda, a thinly sliced apple, and a bottle of Maker's Mark. A spicy dish will pair perfectly with this cocktail. Summer Breeze and Sour Sunrise are also some other fun cocktails you can try making at home.
Whether you are hosting a casual brunch or a formal dinner, whiskey cocktails are always a hit. The sweet flavors of the whiskey make it easy to blend with several ingredients, while the solid spicy flavors give it a strong tinge.
Experience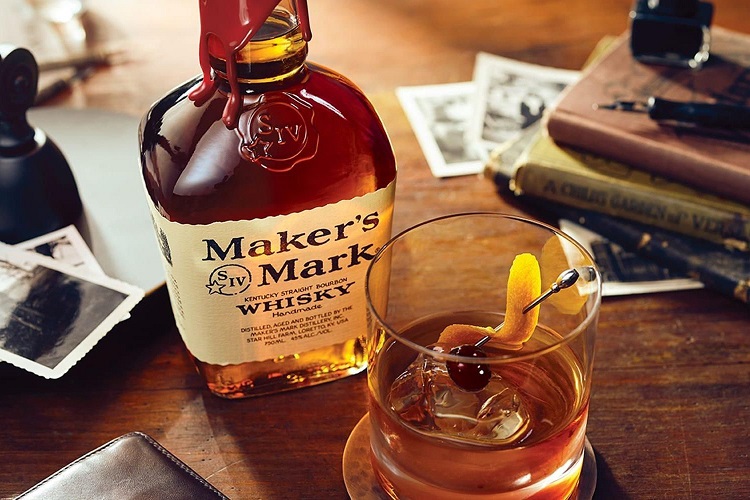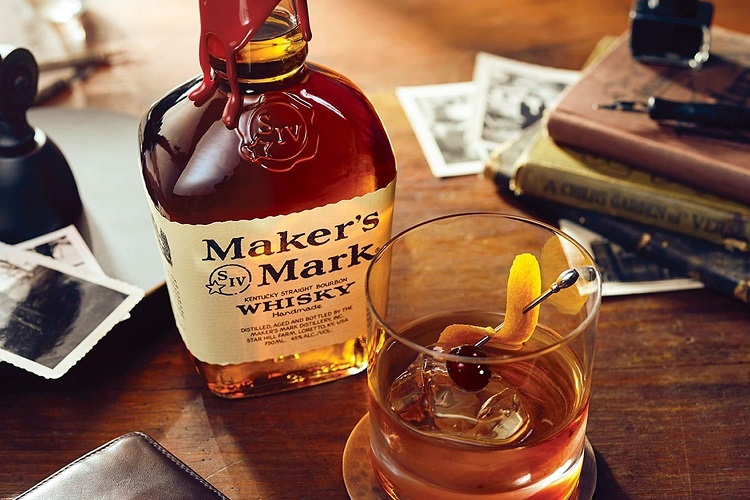 In conclusion, even though Maker's Mark is a household name, it may not be for everyone. The taste is much milder and sweeter than other bourbons.
You have to develop a taste for it. It isn't the most fantastic bourbon whiskey globally, but it is an absolute classic. Anyone who has taken a sip is never disappointed. It has held its flavor and consistency for years. The fact that it is handcrafted makes it even more special.
A family-run business that's been around since 1954 gives it that vintage feel, not to mention the classic red seal wax. Apart from the extraordinary sweet to spicy flavors, the brand's familiarity makes it likable. Overall I would say that it is a mid-range bourbon whiskey. Not too firm nor too mild, it is just right. It sits right in the middle of all the bourbons we have available.
The affordable price is another perk, which is why it landed on our list of the best whiskies under $50.  It is accessible on the pockets, has excellent flavor, and is available everywhere you go. Maker's Mark is the go-to bourbon whiskey most people have in their homes.
After a long day at work, a nice glass of Maker's Mark with some ice will give you a sense of relief. I enjoy the flavors deeply. The signature taste always stands and is like no other whiskey I have tasted before.
Another thing that intrigues me is the distillation process.
Wrapping Up
For years the Maker's Mark was the only drink the company manufactured and sold.
Since it has been around for so long, they must be doing something right. I believe they have perfected the flavors. Running a distillery for decades gives Maker's Mark a stronghold in the industry.
Their consistency makes me trust them and their homely classic distilling techniques are flawless. All in all, I would recommend this to any first-time drinkers or whiskey lovers like me!