If you are looking for the right gift for the whiskey drinker in your life, you have come to the right place. In this article, we will go over some of the best whiskey gifts. These unique and useful options are sure to leave them speechless.
First off, to give your friend or loved one the best gift, you need to know what they are passionate about. Since you already arrived at this page, you already completed the most important step.
Even still, it can be difficult to choose the right one.
Different gifts will give off different vibes. Today, we will be covering five different gifts for whiskey lovers, each one unique in its own way.
You know your loved one best. By the end of this guide, you will have the perfect gift that suits their personality just right.
Not only will we cover the top whiskey gifts, but we will answer a few popular questions such as how to gift a bottle of whiskey, what snacks pair well with whiskey, and what drink to mix it with. Let's get started.
---
Reviews of The 5 Best Whiskey Gifts
---
1. Best Overall: Whiskey Glass Set of 2 – Bourbon Whiskey Stones Gift Set
Many people choose to buy some of the best whiskey glasses as a gift. But if you are looking for more than a standard whiskey glass set, this will be a great choice.
The set comes with two heavy glasses designed for whiskey, bourbon, and scotch. It also includes whiskey stones, slate coasters, tongs, a velvet pouch for the stones, and a wooden case to keep everything in.
It is especially ideal for whiskey enthusiasts since it comes with a set of eight-stone cubes.
If you are unfamiliar with these, let us explain a little. These stone cubes replace the ice. After freezing the stones, you put them in your glass to keep the whiskey cold. Since they don't melt, the stones will not dilute the drink as ice would.
Another benefit of the stone cubes is that they will keep the whiskey cool for much longer than ice cubes. Finally, they are odorless and tasteless, so they will not change the malt's flavor.
The small velvet pouch that is included will hold the stones and keep them safe for years. There is also a pair of metal tongs to drop the stones into the whiskey glass.
Next up, whoever is receiving the gift won't have to worry about water rings. The set comes with two heavy slate coasters that match the cubes' color and aesthetic.
You won't have to worry about quality when it comes to this product. The glasses are made of lead-free, high-quality glass, while the stones are natural granite.
You can easily wash and reuse the drink stones, which will last for years.
To cap it off, everything comes in an attractive, vintage-looking wooden gift box. This ensures that everything has its own specific place and will not get lost. It is also great at making it gift-ready.
Finally, the company has a broken-glass replacement policy. If the glasses arrive broken, they will replace them for free.
One downside of the gift is that users will have to hand-wash the stones each time they use them since the alcohol will leave a sticky residue. Even though ice cubes can water down drinks, you simply take them out of the freezer and pop them in the drink with no clean-up required. (However, many whiskey lovers will think that the benefit outweighs this downside.)
Pros
Glasses are dishwasher safe
The set comes with four items (two glasses, eight stones, two coasters, and tongs)
Glass is lead-free, high-quality, and durable
The set has a broken-glass replacement policy
Chills the whiskey without watering it down
Cons
You will need to hand-wash the stones
Final Thoughts
Overall, this whiskey gift box is a very classy and elegant-looking set that makes it one of the top whiskey gifts for men. It comes with four special items (glasses, coasters, stone cubes, and tongs) that will last for years.
---
2. Runner Up: Corkcicle Cigar Glass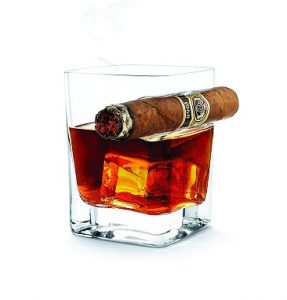 Many people who love to enjoy both whiskey and a cigar find it awkward to hold both, especially at social gatherings. This gift will eliminate the problem since they can hold both in one hand.
One of the best gifts for whiskey lovers, this product is unique and will be great for whiskey and cigar enthusiasts alike.
It is a double old-fashioned whiskey glass with a built-in cigar rest. The glass has a cylinder-shaped indent near the top, designed to hold a cigar in place.
A great thing about this glass is that you can easily place your cigar in the holder, and it will not budge at all.
Not only is the idea behind the gift unique, but the glass itself is special. Each glass is hand-crafted with high-quality glass, making it one of the top whiskey gifts.
The durable glass will last for years and will not break easily.
Corkcicle, the company that manufactures the product, has been around since 2010. Since they design the majority of their products for alcohol use, quality won't be an issue.
The company knows what glass needs to keep a favorite whiskey cold but with style.
There are a few things to keep in mind before jumping the gun on this one.
If you put ice in the drink when the cigar is in the holder, the outside of the glass will get wet due to condensation, which will eventually dampen the cigar.
This issue can cause several problems. A damp cigar will be challenging to draw smoke from. Furthermore, it may not keep an even burn, and the dampness could lead to an odd taste.
Pros
One of a kind gift
Made with high-quality and durable glass
You can hold your whiskey and cigar in one hand
Hand-crafted
Cons
Condensation can dampen the cigar
Final Thoughts
This product is one of the best gifts for whiskey lovers. Whiskey and cigar enthusiasts will consider it a thoughtful gesture since
It is not similar to any glass on the market and will leave a lasting impression.
Whoever you are buying for will get the best of both worlds; a good glass of whiskey and a hands-free cigar smoke.
---
3. A Field Guide to Whiskey Book
A field guide to whiskey will be the best whiskey gift for enthusiasts who want to learn more about the topic.
This book contains 324 short entries covering everything from whiskey production to general whiskey trivia.
Anyone who picks up this book will feel like a whiskey expert. The field guide covers basic knowledge about the niche, whiskey trends, trivia, and even consumption tips.
Not only does the book give knowledge, but the giftee will gain a few fun travel ideas.
There are lists of bars, hotels, trails, and festivals that you can visit that relate to the industry. Finally, the book is visually stunning, with over 200 high-definition photographs.
Here are a few questions that the book will answer…
What are the basic ingredients in all whiskies?
What are the current whisky trends around the world?
How does it get its flavor?
Who was Jack Daniel?
You will not have to worry about any misinformation in the book. The author, Hans Offringa, is a world-renowned whiskey expert, holds many titles in the industry, and is an editor for the European Whiskey Magazine.
This book may not be the best choice for an educated whiskey expert. The book is more geared towards beginners who want to get a firm grasp of the industry.
Most of the snippets revolve around basic facts and acts as an introduction to whiskey.
For that reason, intermediates or experts in the field won't find a lot of knowledge they did not already know.
Pros
Elegant design
Written by a whiskey expert
Includes 324 entries on the subject
320 pages of content
Cons
It will not be useful for intermediate or advanced experts in the industry
It only serves as an introduction to whiskey
Final Thoughts
If you are looking for a less common whiskey product (such as a glass set), yet still one of the best gifts for whiskey lovers, this will be the way to go.
It will be one of the most thoughtful gifts since the giftee knows you have kept their passion for the industry in mind.
Furthermore, the product is not only geared towards males. Pick this up as one of your whiskey gifts for her, whoever that special someone may be. She will appreciate the gesture.
---
4. 1.5L Whiskey Barrel Dispenser Oak Aging Barrels
Buying a one-of-a-kind gift for whiskey lovers can be hard, but with this barrel dispenser, you won't have to look any further.
This take on a whiskey decanter will be one of the most quirky and distinctive whiskey gifts for men.
The gift is a mini, 1.5L whiskey barrel dispenser. Due to its small size, it will fit perfectly on a table or a bar counter.
The barrel resembles an authentic, vintage whiskey barrel with its faux copper/metal accents and unfinished wood body.
You can easily place this gift on any surface with the wood stand that comes with the set.
Whiskey lovers can enjoy an authentic and classy experience; they can pour themselves a drink with style and enjoy a quiet evening at home (or a loud, wild get-together, their choice).
Another great benefit is that it comes with a small bag of fresh herbs and spices.
The giftee can drop a few of these herbs into the alcohol of their choice and let it steep in the barrel.
The herbs will transform their favorite whiskey into a new and rich yet familiar taste, which is what makes this one of the best gifts for whiskey lovers.
Finally, the product comes in five different colors: brown, chocolate, red-wine, retro, and white.
No matter what style of home your friend has, you will find a color that accents the decor nicely.
Even though this is one of the top whiskey gifts, there are a few things to keep in mind.
The whiskey dispenser is very small and will only hold about 1.5 liters of alcohol (equivalent to a plastic coke bottle).
While this may be suitable for a one-man show, it will not fill up everyone's glass at a large get-together.
The original gift comes with a lower-quality wooden faucet. You may need to buy an additional copper faucet separately to increase the set's look and functionality.
Pros
It gives a classy pouring experience
Replicates a vintage whiskey barrel dispenser
Built with solid wood
Available in five colors
It is the perfect size for a table decor piece
Cons
Only holds 1.5L of alcohol
It comes with a lower-quality wooden faucet
The mini whiskey barrel will be a good whiskey gift that won't be over the top. Since it replicates a vintage dispenser, the giftee will feel as if they have traveled back in time.
Small enough to display on any table or bar counter, the piece will also be a great conversation starter.
---
5. W&P Peak Silicone Sphere Ice Mold w/ Cover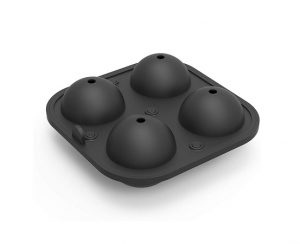 This silicone ice mold makes four large two-inch ice spheres perfect for a bourbon old fashioned.
The latches on the mold make it easy to open and release the frozen spheres; all you have to do is unlatch the top and pop out the ice sphere.
Since the ice sphere is two inches in diameter, it will take a while to melt due to the larger surface area, which prevents a watered-down drink.
The tray is also individually molded. This way, you can pop out one ice cube without disturbing the other ice spheres.
There are four small holes on top of each mold to fill the tray when latched closed. The rigid connecting pins keep the tray closed and secure while filling and freezing the ice.
Some giftees will be worried about chemicals since the product is silicone. However, a high-grade silicone factory that has a zero-emission policy manufactures the ice mold.
Furthermore, the product meets LFGB requirements and is BPA and lead-free.
The main disadvantage of this tray is that it is difficult to fill. The holes on the molding's top piece are quite small, so water will inevitably flow over the sides every time you fill it.
It is also more challenging to fill the tray when some ice cubes are already in the mold.
One last thing to consider is that it only makes four ice cubes at a time. This will be plenty for one or two people, but if the person you are buying for is a socialite, you may want to consider a bigger ice tray for parties.
Pros
Dishwasher safe
Makes two-inch ice spheres
Slow melting cubes
Manufactured in a high-grade facility
It is easy to pop out the ice
Perfect for bourbon old fashioned
Cons
Quite difficult to refill
Only makes four ice spheres at a time
Final Thoughts
If you are looking for some great whiskey gifts, this product will be one of them. Give your friend the chance of an authentic and quality drink with these two-inch sphere ice cubes.
The cubes will not water down their drink and will last a while in the glass.
---
Tips For Giving The Perfect Whiskey Gift
We all know that gift-giving can be difficult, especially when you want to get it just right. Using the following tips as a guide will ensure that you get it right.
1. Know What They Like
You already got a big piece of the puzzle completed by getting this far. Great job!
It shows that you have put some thought into the gift, which goes a long way. Now, we just need to take it a little further.
Some things to think about are,
Do they like fancy and stylish things? Or do they have a more simple and laid-back type of style?
What are some other things they like? Cigars? Reading? Etc.
2. What Do They Have?
First off, it is pretty frustrating when you are excited to give someone a gift, only to get the reply of "I already have this."
So, you want to do your best to avoid this at all costs. You may need to ask around to have someone gather the intel to find out whether they already own the gift that you are thinking about giving.
By finding out what they already have, you may actually find out what they need in the process.
Secondly, think about what they have in terms of their lifestyle.
In other words, there are a whole different selection of whiskey gifts that would be great for a homeowner with their own bar or mancave, compared a friend who is a bachelor and sleeps on friends couches.
3. What is Their Love Language?
I know that this may seem out of left field, but bear with me. It's very important.
In the famous book, "The 5 Love Languages", by Gary Chapman, he explains that everyone has a different love language. A love language is a way a person feels loved.
They are:
Words of Affirmation
Quality Time
Acts of Service
Physical Gifts
Touch
So, by knowing what speaks to them can help you bring the gift to the next level.
Here are some examples.
Give them a whiskey membership with a handwritten note that speaks from your heart.
Get a pair of barrel stave flight holders and bring over some different whiskeys and have a tasting.
Buy a personalized bar tray and help them finish their bar.
4. Know Your Budget
Knowing the amount you are able to spend on a gift will go a long way.
As with anything, whiskey gifts can range in price from close to free, to large figures. So, by keeping your gift within a reasonable budget will narrow down your choices and make the selection process easier for you.
And by the way, great gift don't necessarily need to cost a lot, which brings us to the final tip.
5. Give From the Heart
In general, nothing is better than a gift that is given with love.
People like to know that they are appreciated and that you are thinking of them. So, don't stress yourself out too much worrying if they'll like what you chose. If you give the gift with love, it will be a success.
How Do I Gift a Bottle of Whiskey?
Now that you have the perfect gift for a whiskey lover, you may be wanting to pair it with a bottle. Let's find out how to gift a bottle of whiskey that will impress anyone.
Use a Gift Bag
The first way to gift a bottle of whiskey is to put it in a gift bag. When you stylishly gift the bottle, it amps up the excitement. Who doesn't love opening a present?
If you are opting for the most simple wrapping job, this will be the one for you. Buy a gift bag and some tissue paper.
Wrap the tissue around the bottle, twisting it at the top. Bunch up some more tissue and put it in the bottom of the bag to add some cushioning. Place the bottle in the bag, and there you have it.
An easy way to amp up the style is to buy the bag and tissue in the colors that match the bottle. Perhaps the labeling is red and gold – buy those colors to compliment the bottle nicely.
Wrap It With Gift-Wrapping Paper
If you want to put more effort into the process, wrap the bottle with gift-wrap paper.
To begin, lay the bottle flat on its side on the paper. Fold the paper over the bottle and turn it once, so the paper fully covers it. Tape the paper in place.
Then, fold the paper over the bottom of the bottle. With the extra wrapping material near the top of the bottle, you can either fold it neatly down or twist it. Tie the twist of paper with a ribbon to give it a final touch.
You can also buy a nice tea towel and wrap it with that. That way, you are giving two gifts in one. Wrap the bottle with the tea towel the same way you would with paper.
Twist the top of the cloth near the cap of the bottle and secure it with a ribbon.
Conclusion
Even if you know what someone is passionate about, it can be hard to shop for gifts. There are so many options out there, but hopefully, this guide has helped to narrow it down.
If you are going for a classic glass set, go with the Whiskey Glass Set of 2. The gift is high-quality yet simple, so anybody would enjoy it.
However, check out A Field Guide to Whisky if you are going for a more personal and thoughtful gift.
When gifting a whiskey bottle, use a gift bag and match the colors with the bottle's label. You can also use wrapping paper and ribbon to make it look even more elegant.
Resources: