Every decanter piece tells a story on its own, from the glass finishes down to the intricate details in its design. We have searched far and wide to help you find the best whiskey decanter to fit your style.
In this list you will find various options. They range from intricate and elegant, to creative, and even some simple options. Because in the end, a decanter is so much more than a bottle for storing whiskey.
It is an art piece for your home that should reflect you.
But how do you choose the right decanter for representing your whiskey and taste? These 10 decanters below can offer you sound advice.
---
10 Best Whiskey Decanters
---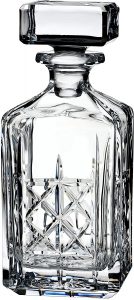 Waterford crystal is a company that stands for quality and elegance. Their products are not just functional, but they are hand-crafted pieces of art.
Some famous creations of Waterford include the Times Square New Years ball and various sports trophies like the Superbowl.
When choosing among the best whiskey decanters, the Marquis by Waterford whiskey decanter has everything you need for a functional decanter.
What exactly is "functional," you may wonder?
Well, most Waterford products are pure crystal which means that they contain up to 33% lead ozide. This lead can leach into your whiskey and could be hazardous to your health. Because of that, crystal decanters should only be used for decorative purposes.
With that in mind, they created this line of products out of crystalline glass. Unless you are an expert, it is very difficult to differentiate between crystal and crystalline. Therefore, you get the same high-quality workmanship and design, but without the lead.
Furthermore, the Marquis by Waterford whiskey decanter comes with an airtight stopper to preserve the quality of your whiskey.
Overall, this incredible decanter is well designed and has excellent value since you are getting a Waterford product at an excellent price.
Pros
Elegant design
Good capacity (32 oz.)
Great functionality
Not too heavy to pour
Comes with a glass stopper for better storage
Cons
---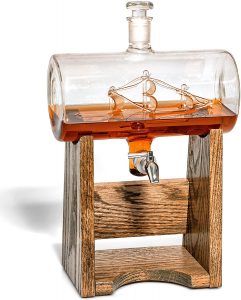 This unique piece is sure to attract attention when it is displayed in your home.
It is a perennial favorite for nautical buffs like sailors and men that served in the Navy. Situated inside this decanter is a replica of the 1797 USS Constellation.
This hand-blown decanter sits on top of an oak wooden base that is handcrafted in Kentucky.
People that are looking for larger storage will enjoy 50% more volume compared to most other choices on this list. Also, it has a airtight ground glass stopper and a stainless steel spigot to preserve the pure essence of the whiskey that is stored inside.
On top of everything, Prestige made a commitment to be environmentally friendly when creating this masterpiece. Therefore, for each one sold they will plant a tree to offset their wood use and help grow forests.
We are sure you will love this product, but if you do not for any reason, it is backed by a 60 day money back guarantee.
Pros
High-quality material
Unique Design
Great for Sailboat Lovers
Hand-blown lead-free glass preserves the taste of your spirit, scotch, etc.
1150ml bottle capacity
Cons
Larger Size with wooden base may turn some people away
---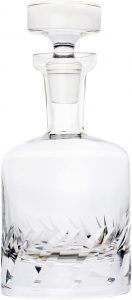 Where do we even begin?
Lead-free crystal design. Price-friendly. Gift-worthy. And most of all, 28 oz. capacity perfect for storing a 750 ml bottle of whiskey.
The Ravenscroft Crystal is a decanter any whiskey lover would want to have in their home.
Storing whiskey in this decanter even brings out the deep color of scotch, and it's one reason why the Ravenscroft Crystal decanter deserves the top 2 pick.
Now, does lead-free matter for whiskey decanters? You bet.
Apart from minimizing health risks on the user's end, it's also to prevent workers who constantly handle and manufacture whiskey decanters from prolonged exposure to lead.
On top of all that, this high-quality glassware is handmade.
Given its premium look, it comes at a reasonable price any customer wouldn't have to break the bank for.
Finally, this bottle's sophistication makes it an excellent gift, be it an anniversary, birthdays, graduation gift, or Christmas!
Pros
Sophisticated design
Excellent value
Lead-free design minimizes health risk
Can hold up to a 750ml bottle of whiskey
Classic look and appeal
Cons
Stopper fitting is slippery
Some products arrived with dents
---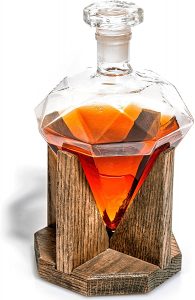 Prestige Decanters hits the mark for a unique design and solid craftsmanship.
This hand-blown diamond shape design is one look we can't say no to, and makes an excellent wedding, engagement and anniversary gift.
They say that diamonds are a girls best friend, right?
The Cullinan M decanter is named after the largest diamond ever gem-quality rough diamond every found.
Capable of holding 1000ml, whether you keep it in your living room, bar cart, or home bar, this lead-free glass decanter is an excellent choice for anyone with high-end style.
And just when you thought it couldn't get any better, this bourbon decanter comes with a solid oak display that is handcrafted in Kentucky. Also, it comes with a hand ground glass stopper to ensure an airtight perfect fit.
Although Prestige is a clear winner for style and price, some users commented on how light it felt, and even a few products arriving with scratched glass marks.
Pros
Excellent gift
Borosilicate glass provides lead-free design
Solid Oak wood display enhances the appeal
The unique design offers sophistication
Cons
---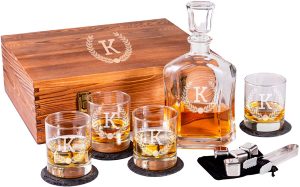 If you are looking for an all-in-one whiskey decanter set as a gift for Christmas, birthdays, bachelor parties, Fathers Day, or special occasions, then this is your best best.
Inside the wooden box, you will find 4 scotch glasses, a decanter, 8 chilling stones, tongs, and 4 natural slate coasters. In essence, it has everything you need besides the whiskey.
The highlight is the personalization benefit you can add to its overall design.
In fact, customizing the engraving is quite flexible, from changing the font down to the size of the lettering.
You can be sure that whether they are drinking the best whiskey under $50, or an expensive bottle, at least they are doing it in style.
Pros
High number of positive reviews
Personalization feature enhances the appeal
Great price value
Excellent gift idea
Cons
Might be too many items for some
---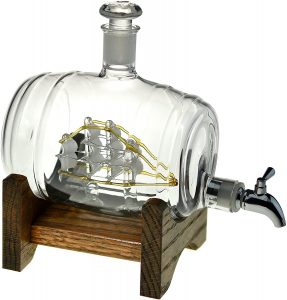 Next on our list is another stunning nautical piece from Prestige Decanters.
With a solid oak base and a hand-blown glass decanter, this piece is a beautiful piece of art. But what really sets it apart is the glass ship that sits inside the bottle.
We especially love that as the whiskey leaves the bottle, it slowly reveals the brilliance of the ship inside.
As with all Prestige decanters, this product comes with a hand ground airtight glass stopper. Also, it comes with stainless steel spigot and the wooden base is handcrafted in the USA.
With dimensions of 11″x7″x5″ it is not that large of a piece. So it should not have trouble fitting in most spaces.
All in all, this beautiful decanter will surely make a statement inside your home. Or it will be an awesome gift.
Pros
Handcrafted Oak Base
Beautiful design
Large 1000ml volume
Ground glass stopper provides an airtight fit
Cons
At 11″x5″x7″, it is smaller than people imagine.
Some people had issues with the spigot.
---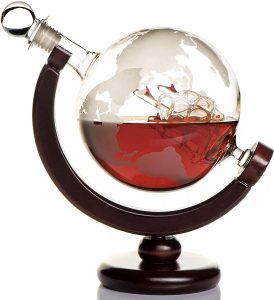 Much similar to the uniqueness Wine Savant offers, the Kemstood whiskey decanter comes in a globe shape design, making it a unique piece of glassware to have.
Even better, it's much cheaper and one of the cheapest whiskey decanters on this list!
What else does this whiskey decanter come with? To name a few:
An antique ship
Pouring funnel
Silicone-glass bottle stopper
Wooden stand
That's not all. The globe shape design isn't a piece of glassware attached to the stand. It's a hand-blown shaped glass crafted intricately and even comes with a map pattern for enhanced style.
Furthermore, you don't have to limit yourself to storing whiskey. You can use this universal crystal glass decanter to store any spirit you have at home, along with rum, wine, gin, and even juice!
Needless to say, that's not to say it's not without its drawbacks. Its intricate design is also the double-edged sword to its overall quality.
Users reported the item arriving broken, cracked, and in one case, completely shattered.
Although this may be one of the few rare whiskey decanters that showcases excellent style, its fragility is also a concern.
Finally, don't expect to fill a lot of alcohol or spirit in this decanter. It's not exactly share-friendly, but it holds just enough for a nightcap.
Pros
Beautiful design
Excellent home decor appeal
Highly affordable
Intricate detailing of map enhances the appeal
Cons
---
Hunters, military members, and gun lovers all agree that this whiskey decanter set looks amazing sitting on top of a bar.
Made from borosilicate glass, this decanter holds up to 1000ml of your favorite alcohol. Also included in the set is 4 bullet whiskey glasses. These unique glasses actually have a bullet embedded into the side of the glass, which adds to the whole appeal.
Everything sits perfectly on top of the decorative wooden base.
All in all, this stunning piece of art is a favorite among many who have purchased it.
Pros
Sophisticated design
Trusted glassware quality
High value for the price it offers
Includes Bullet Glasses
Makes for an excellent gift for gun lovers
Cons
Some stoppers do not have tight seal (they will replace for free but have to send back)
22.5″ long may be too large for some.
---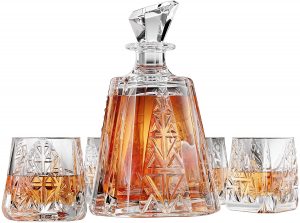 This beautiful set is designed with the Aztecs in mind.
As Western society develops a greater appreciation for the knowledge that was contained within these ancient civilizations, pieces like these help pay tribute and keep their memory alive.
This stunning decanter is crafted to resemble ancient pyramids that existed in Mexico.
Overall, the reviews tell the story, and people absolutely love this set.
We can't fully describe it in words since it's an experience you have to immerse yourself in.
This may sound corny, cheesy, or even cliche, but behind this decanter is a story waiting to be told at the end of each sip.
Don't worry. If you aren't satisfied with this decanter set, Ashcroft offers a "complete hassle-free" refund if you return it within 30 days.
Pros
Perfect balance of weight and girth
Great grip
Great gift idea
Sturdy and stable frame
Large capacity (45 oz.)
High number of positive reviews
Price-friendly
Cons
The packaging isn't as great
---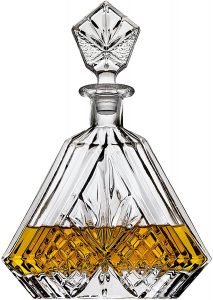 Not much can be said about the Lefonte whiskey decanter set. The lead-free crystal decanter features an Irish triangular cut design that's stylish enough to keep in your bar cabinet.
Although it doesn't offer as many glasses as the Ashcroft Aztec, it's price tag more than justifies the value.
With 2 glasses, the Lefonte lead-free crystal whiskey decanter set is perfect for sharing between two close friends, whether it's by the beach, at home, or a regular weekend session.
Pros
Affordable
Stylish and elegant
Great value
750ml capacity
Cons
A few products arrived chipped
Glass seams can be pretty sharp
---
Buying Guide: How to Choose the Right Decanter
There is no perfect or exact type of decanter you have to go for.
After all, decanting is mostly about aesthetics and impressing your guests with your bourbon/whiskey collection.
The best advice we can give you is to choose one that best fits your preferences, personality, and style.
Here are 3 factors to be on the lookout for:
Airtight Sealing
We mentioned earlier that decanters are mainly used for aesthetic reasons. However, make sure to choose decanters with stoppers that provide airtight sealing.
This will help slow down the oxidation process. In simpler terms, a good stopper prevents your bourbon or whiskey from turning stale.
If you let 15-year old scotch sit in the open without corking or placing a stopper, you'll notice the quality diminishes after a while.
Of course, there's no need to use a 24-karat gold leaf stopper. That would be unnecessary.
Sure, a gold leaf stopper would shine bright in a room full of guests, but the price tag doesn't always justify its purpose.
Rubber stoppers are adequate in preserving the quality of your spirit or alcohol.
Size
Size is a matter of preference.
If you're the only person in the family who drinks scotch or you're getting a decanter for a friend who lives alone, you don't need a huge-sized decanter.
This can range between a 500ml to 1L decanter; however, a 750ml decanter should be sufficient for sharing.
For individual use, a 500ml decanter is a good choice.
Crystal Material
Getting your hands on a vintage crystal decanter is a fine piece to have, but is the crystal lead-free?
Choosing a decanter for aesthetic reasons sounds simple enough. Still, as we dive deeper into technical features, such as crystal material, you'll have to be sterner about the quality you receive.
Lead-free crystal is a must due to the health risks lead has on your body.
Once it reacts with the alcohol in your decanter, it's nearly impossible to repair the damage done.
We know what you're thinking: "I don't drink all the time, anyway." or "How bad could it be?"
The thing is, you're forgetting the utensils you use may contain lead. The water you drink may contain lead.
Combine that with the lead content in your decanter, although minimal, is still a serious concern over prolonged periods.
As a result, it's best to choose a decanter with an ultra-clarity crystal or borosilicate glass.
Other Features
Apart from the crystal material, airtight sealing, and size of your decanter, other features include the price and design.
Giving a decanter as a gift isn't considerably expensive. It's not like you're buying Hermes that costs hundreds and thousands of dollars.
However, price is a factor to consider if you're giving the decanter for a major event or special business occasion.
Alternatively, if it's for a friend who's close to you, the price also differs.
Finally, choosing a decanter with various designs depends on every individual's visual preference. If you prefer a classic, traditional look, this will help narrow down the options you see in the market.
However, if you're adventurous and prefer something with class, a globe shape, or even a pirate-themed decanter would suit you perfectly.
Should You Get a Decanter Set?
If it's your first time venturing into the world of whiskey, check out our beginners guide on how to drink whiskey,
As we mention in that article, decanters do not serve any particular function to improve the taste and quality of the whiskey. They are art pieces that make statements and are for your own enjoyment.
People enjoy looking at them and pouring whiskey out of them adds a level of style and sophistication. In the end, they become great conversation pieces.
Because of this, they are some of the best whiskey gifts.
Rather than purchase individual glasses and spend on costly purchases, you can save on costs by buying a decanter set and maximize what you pay for.
Also, choosing a set provides a higher value in return.
On the other hand, if you do like a specific decanter that is not offered in a set, then buying some of the best whiskey glasses will help to bring the whole experience together.
How Long Can You Store Whiskey in a Crystal Decanter?
In our experience, you can store whiskey in your decanter for as long as the way it's stored in the original container if you have a proper airtight seal.
Scotch, bourbon, and whiskey can last for years in a decanter; however, if you don't have airtight sealing, it could go stale easily.
Wine will only last a few days inside a decanter. More importantly, if you're looking for a way to store whiskey in your decanter for long, make sure it contains no lead.
If your decanter has lead in its material, use it only for serving purposes.
Conclusion
Ultimately, you can't go wrong with decanters as a gift to give colleagues, friends, or loved ones. The nature of a decanter's appeal is innately premium and pleasing to many customers.
With several options, we hope this buying guide will help you decide how to choose the best decanter for your needs. You can also read reviews about what other customers had to say in case you're not sure.